The Bowdoin Orient - The Bowdoin Orient is a student-run publication dedicated to providing news and media relevant to the Bowdoin College community.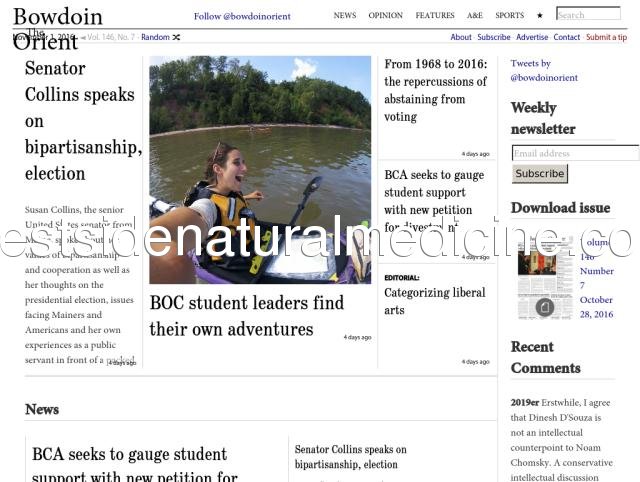 http://bowdoinorient.com/article/11475 During Out Week, vigil honors Orlando shooting victims — The Bowdoin Orient - Students gathered on the steps of the Bowdoin College Museum of Art last night to honor the victims of last June's shooting at the Pulse nightclub in Orlando, Florida. The vigil, organized by members of Bowdoin Queer-Straight Alliance (BQSA) and the Latin American Student Organization (LASO) emphasized the importance of intersectionality, particularly in queer communities and communities of color. "When these shootings happened, my parents called me and they were like 'Chris, you're gay and you're brown, this could have been you,'" said Chris Hernandez Turcios '18, who led efforts to organize the event. At the vigil, students lit 49 candles on the Museum steps, one for each victim, and read aloud all the victims' names and ages. Hernandez Turcios and Ernesto Garcia '17, president of LASO, gave short speeches in English and Spanish to a small crowd of students who turned out despite a light rain. Sophie Sadovnikoff '19, a leader of BQSA, helped Hernandez Turcios organize the event."There are very few exclusively queer spaces and we consider a lot of [those] spaces safe spaces," she said. "So to have one of those taken from us in such a violent way ... it really freaked me out." The vigil was a part of Out Week, which BQSA sponsors each year. Hernandez Turcios said he wanted to emphasize intersectionality at the vigil and during Out Week, both as it pertains to the shooting and to Latin American and queer communities at Bowdoin."More than 90 percent of the victims were Latino and it was targeted towards the LGBT community along Latino lines," said Garcia."They were all there because it was a salsa night," Hernandez Turcios said. Garcia noted the importance of recognizing intersectionality not only with regards to the Orlando shooting, but also at the College. "It's really hard to find events [at Bowdoin] where you have people of color who also identify as not straight," he said. Both Garcia and Hernandez Turcios hoped that bringing LASO and BQSA together for the event would emphasize the overlap of oppression based on race and sexuality. Because the Pulse shooting was a high-profile event, Hernandez Turcios thought that holding a vigil would honor the victims and provide a powerful forum that all students could understand. "I don't want to proselytize," he said. "I didn't want to have a workshop or a discussion because I feel like when we have discussions about intersectionality and queerness and race we have the same 20 to 30 people who come."The vigil was emotional for many of the students present; some also saw it as a space for unity. "Queer-identifying people tend to face a lot of fear in everyday life because you sort of never know how people are going to react to you," Sadovnikoff said. "Having to face that fear in spaces where you usually didn't became really difficult. So making sure that those spaces continue to exist on this campus and that we really make the space for them in our lives and remove that sense of fear has been really important." 
http://bowdoinorient.com/article/11479 College Republicans to bring conservative commentator — The Bowdoin Orient - The College Republicans will bring neoconservative political celebrity Dinesh D'Souza to campus to speak on November 1. Despite negative student reactions to a talk he delivered at Bowdoin in March 2007, the co-leaders of the College Republicans, Jack Lucy '17 and Francisco Navarro '19 believe his lecture "What's so great about America?" will offer a conservative narrative that has been missing from campus discussion. "We thought [D'Souza] was a great fit for what we were trying to accomplish, both as an intellectual counterpoint to bringing Noam Chomsky to campus and giving a voice to the conservative values on campus in a way that hasn't been done recently," Lucy said.Navarro said that the funds used to book D'Souza came, in part, from alumni who donated explicitly to bring a conservative speaker to campus.D'Souza grew up in Mumbai, India and first came to the U.S. as a high school student. After graduating from Dartmouth College in 1983, he followed a career, "as a writer, scholar and public intellectual," according to his website. D'Souza identifies as a neoconservative and has published several books as well as three documentaries, "Obama's America," "America: Imagine a World Without Her," and "Hillary's America." When D'Souza spoke at Bowdoin in 2007, his talk centered around the war in Iraq. He argued that the only way the United States could lose the war in Iraq was if the Democrats continued to challenge the Bush administration. He characterized Democrats as willful traitors who were supporting the nation's enemy, saying that domestic opposition operates in service of the strategic aims of America's enemies and liberals are at best unwitting supporters in the civilizational struggle against radical Islam. Jeffrey Selinger, associate professor of government, was present at D'Souza's 2007 talk as well as Chomsky's recent talk. He commented on the many purposes and processes that go into choosing guest speakers. "Some [speakers]  are academics and are accustomed to producing, even in a large auditorium, a classroom-like feel," he said. "Sometimes we pull in celebrities of different kinds. They could fancy themselves to be public intellectuals, but sometimes they're incredibly polemical figures or deeply partisan or not particularly conscientious about research methods."  "Sometimes we've even had figures who come in who are unaware that they are willfully misinforming our students about the subject that they are addressing," he added. "We have to be wary and mindful of the kinds of motives and purposes that lead visitors to take us up on an invitation to come speak." Lucy noted that D'Souza, like Chomsky, speaks to the idea of American exceptionalism."People on both sides of the aisle feel like they've been effectively left behind for generations," he said. "Figuring out how to make this country great and work for everyone is a focus of Chomsky and D'Souza." Selinger, on the other hand, questioned whether D'Souza was the correct type of conservative speaker to "balance" Chomsky's liberal discourse. Both figures are political celebrities, he said, which means that they are not speaking to college students and faculty in order to learn from them and engage in a larger intellectual conversation.Selinger suggested that student groups invite lower profile, more academic political speakers, and consult faculty during the decision making process. "There are so many fantastic conservative and libertarian and progressive thinkers and writers that are out there and that could be drawn upon, and that aren't particularly expensive either," Selinger said. "Often times, the most deliberative figures are cheaper. They're not celebrities, they're very happy to come visit, they don't often get the invitation."Wednesday evening, Ladd House discussed whether or not it would hold an event to debrief the D'Souza lecture. Michael Walsh '19, a Ladd resident said that while the College House system is meant to be a platform to explore different ideas, many house members still opposed the event."It's tough because Bowdoin is such an inclusive community and a lot of the non-inclusive views [D'Souza] has go against everything we stand for, but also because we're in an inclusive community, [so] we should be listening to these rather narrow-minded opinions," Walsh said. 
http://bowdoinorient.com/article/11480 Two-way teaching — The Bowdoin Orient - Last year, in the wake of the "tequila" party, a group of students interrupted one of the monthly faculty meetings in order to urge faculty to participate in conversations about race on campus. These students wanted their professors to be involved in issues that exist outside of their classrooms—and they were not the only ones expressing the desire to engage. Assuming a student jumps through all the necessary hoops in order to speak at a faculty meeting—which most students do not even know is an option—an opportunity for faculty to respond and engage with that student does not currently exist. Since that meeting last year, a group of faculty has been discussing whether to allow unannounced students to speak at faculty meetings. In addition, at this week's meeting, a number of professors voiced a desire to engage with what students had expressed in the past. Creating opportunities for this to happen is a valuable pursuit for students and faculty alike.When students or faculty do have concerns, there should be a forum where students and faculty can talk to one another on a larger scale. Having a monthly meeting—separate from the faculty meeting—where students and faculty are invited to converse and express any concerns would be a step in the right direction. Meetings like this would help bridge the gap that currently exists between students and faculty when it comes to non-academic issues.  In order to make these meetings as effective as possible, it is important for faculty and students to cultivate personal, non-academic relationships. For both parties to feel comfortable expressing themselves in forums like this, there needs to be a degree of familiarity and openness, which is built through engaging one-on-one outside of class. While students and faculty can individually work with one another to strengthen such relationships, the College should be more involved in encouraging these interactions. For example, having a planned dinner that students can directly invite their professors to takes the pressure off of students to bridge the gap on their own. Formalized events like this bring large groups of students and faculty together in a comfortable setting and facilitate the type of bonding that would make participating together in larger meetings more accessible. Events like "Pints with Professors"—a Senior Week event where students can invite their professors to get drinks—is an example of this, but it comes too late in our Bowdoin careers for us to take full advantage of the opportunity. Outside of the classroom, connecting with faculty helps Bowdoin feel more like a place students can call home. Constantly surrounded by other people our own age, it can be refreshing to have close relationships with a different age demographic as well as helpful to have advice from people other than our peers. Schools like Bowdoin attract faculty that want to cultivate strong relationships with their students. Instituting monthly meetings for students and faculty would accomplish this. These meetings will be the most effective if students and faculty can build strong enough one-on-one relationships so that when they are in larger groups they feel comfortable speaking openly and honestly.This editorial represents the majority view of the Bowdoin Orient's editorial board, which is comprised of Marina Affo, Julian Andrews, Meg Robbins and Joe Seibert. 
http://bowdoinorient.com/article/11473 Dining halls begin to offer fair trade bananas — The Bowdoin Orient - Dining Service began offering fair trade bananas in both Moulton Union and Thorne Hall this September, following last year's campaign by Bowdoin Advocates for Human Rights (BAHR). Two cases of ripe fair trade bananas are now delivered to each dining hall every Friday, accounting for approximately 20 percent of the volume of bananas Bowdoin consumes.  According to Associate Director and Executive Chef of Dining Service Ken Cardone, Bowdoin purchases about 728 cases of all bananas per year, each with around 120 bananas, for a total of about 87,360 bananas.  Last year, BAHR led a campaign to educate the student body about ethical consumerism and to decrease College banana consumption to enable Dining Service to switch to fair trade bananas.  BAHR handed out posters and fact sheets about the banana industry and attempted to garner student pledges to eat fewer bananas.  For nearly a century, several banana companies have been accused of massacring and threatening workers, supporting terrorist groups, underpaying their laborers, exposing workers to harmful pesticides, destroying the environment and committing various human rights abuses in countries such as Colombia, Ecuador and the Philippines. Bowdoin has sourced its bananas from both Chiquita Brand International Inc. and Dole Food Co, two companies that have been blamed for these abuses.  Despite the progress made, Dining Service still faces two major issues: price and the lack of a ripening facility.  "In order for Bowdoin to be able to [fully] buy fair trade they needed to decrease the amount of bananas everyone eats," said Katherine Kirk '18, leader of BAHR.  Fair trade bananas cost about 30 percent more than standard bananas. However, Cardone hopes that future price decreases will allow Bowdoin to offer more fair trade bananas."Retail markets impact availability. I noticed an increased volume of [fair trade] bananas in both local grocery stores. Hopefully it will continue to increase and that helps lower cost and increase availability," Cardone wrote in an email to the Orient.  Dining Service also faces the lack of a ripening facility. According to Cardone, Bowdoin does not have the space to ripen the quantity of bananas the College purchases.  Large fair trade ripening facilities are several hours away. Kirk hopes that Bowdoin might be able to form a coalition ripening facility, possibly with other institutions like Colby and Bates.  Last year, the College began offering a selection of fair trade bananas in the C-Store, although the initiative struggled due to ripening issues and the irregularity of shipments.  While Kirk was excited that Dining Service is beginning to offer fair trade bananas, she expressed interest in the College increasing its fair trade purchases. She called Dining Service's decision a "big first step," and believes that the College can make the total switch to fair trade bananas, particularly as Bowdoin completely shifted to fair trade coffee two years ago.  One of the fair trade vendors Bowdoin purchases from is Equal Exchange, which was founded in part by a Bowdoin alumnus.  "It's kind of cool that we're supporting a Bowdoin grad when we buy fair trade," Kirk said.  Kirk said BAHR plans to continue to focus on promoting ethical consumerism in the future. She believes that students do not always think about the consequences of buying non fair trade bananas because of their isolation from the industry and its abuses—an issue BAHR hopes to address."We're trying to focus on that more this year—focusing on where did this come from and realizing that we live in a really global world and what consequences that has and that you don't really know what moral decisions you're making when you buy something," Kirk said.   
http://bowdoinorient.com/article/11469 Research symposium to showcase students' summer research, breadth of liberal arts — The Bowdoin Orient - Over 150 students will deliver poster presentations at the first annual President's Research Symposium today. In the past, there has only been a forum for science research, but President Clayton Rose opted to expand the symposium to include research across all disciplines this year. "The president's interest is in all students and it seemed like such a wonderful opportunity for science students to showcase the work that they do over the summer, but we have students in the humanities and the arts and the social sciences," said Interim Dean of Academic Affairs Jennifer Scanlon.Michael Amano '17 is presenting posters in both the neuroscience and East Asian studies departments, after presenting neuroscience research at the symposium last year. "I've been able to present on my neuroscience research at the symposium because I was here doing research for that  [last year], but I think it will be exciting to tell people I did this research [this summer], especially for the Hiroshima project."Amano split his summer between Brunswick and Japan. On campus, he spent four weeks studying crickets for a neuroscience project. He spent the rest of his summer tracking down survivors of the Hiroshima nuclear bombing. Amano and his project partner Ginny Crow '18 are curating an exhibition based on drawing made by Hiroshima schoolchildren, which will open at the Bowdoin College Museum of Art in the spring."We found four of them, and I interviewed them and learned about their drawings. And then in addition to that the question kind of developed into 'what does it mean to grow up in a city devastated by a nuclear weapon?'" Amano said. "It was an incredible experience to be able to fit both of those projects that I really think are representative of my interests into one summer," he added. Hyungyu Lee '19 spent the summer in a chemistry lab, trying to synthesize Phenylphosphabenzene, an ingredient used in household items such as soap. "I'm excited about [the upcoming presentation]" he said. "I'm presenting about my favorite things, chemistry and just can't wait to see other people presenting about their science."Evan Baughman '17, a recipient of a Community Matters in Maine fellowship through the Joseph McKeen Center for the Common Good, will also be presenting at the symposium. He worked with the Immigrant Legal Advocacy Project in Portland over the summer. "I think that there couldn't have been a better time to work with an immigrant legal aid clinic that serves low-income residents than this summer," he said. "It has definitely made me far more informed about such a divisive and important issue in our current political situation."Baughman recognizes that his presentation topic is different from the majority of students' topics at the symposium."It's good that there's a forum where students that were on campus doing work can display their achievements," he said. "However, I think that it should be renamed if there's going to be the Community Matters Program participating because there [are] a lot of fellowships that aren't research."Unlike in past years, the President's Research Symposium also coincides with Family Weekend, so some students will have the opportunity to share their summer research with their relatives. "We got to thinking how wonderful it would be for parents of first-year students to be here for Family weekend, to walk through that event and to see 'wow, these are the kinds of things that Bowdoin students do as they get a little bit further in their work,'" Scanlon said.
http://bowdoinorient.com/article/11467 Faculty consider guidelines for unexpected students at meetings — The Bowdoin Orient - In the upcoming weeks, the faculty will continue conversations about situations when students attend monthly faculty meetings unannounced and ask to address the faculty about student concerns without prior approval. These conversations could lead to formal guidelines for how to manage these situations, according to  Bion R. Cram Professor of Economics Rachel Connelly, chair of the committee on governance and faculty affairs (GFA).This conversation about procedure was sparked last spring after a group of students unexpectedly attended a faculty meeting and asked to speak about issues of racial inclusion on campus following the "tequila" party. Though GFA was surprised, the students were allowed to speak for about five minutes after a quick caucus, according to Connelly. Little precedent exists for dealing with these situations. Currently, guidelines do exist for GFA to formally add students to the meeting's agenda if the students give advanced notice. Students from BSG and the Orient have also historically attended faculty meetings on a more regular basis, although they listen rather than present."I think the faculty really appreciated hearing from those students," said Connelly. "Our conversation about [this] is not that that was necessarily a bad thing, but rather that we should have a policy about such things."Connelly said that the faculty generally supports hearing students speak about issues important to them at the meeting. Despite this support, she suggested that the faculty meetings are not always the first path that students should take in engaging with faculty since the meeting tend to be very procedural. "Faculty meetings in general are not good places to have conversations—they tend to be fairly stilted," Connelly said. "We can do a lot better than that as a go-to path."Connelly believes that the faculty meeting would be a viable option if students could not find other venues or exhausted other options, such as reaching out to student representatives on faculty committees. "We don't want to draw big generalizations when the circumstances are all so very different," she said. Professor of Cinema Studies Tricia Welsch spoke in support of the GFA initiative at the faculty meeting on Monday and echoed Connelly's desire to look at situations on a case-by-case basis. "It looked like we were moving in the direction of some guidelines," Welsch said. "I think that's far more flexible and useful to us over a long run where circumstance might change quite a lot."Like Connelly, Welsch said that the agenda-driven faculty meeting might not be the best forum for discussing big ideas. When students spoke last spring, Welsch felt there was inadequate time for faculty to respond or reflect. She did think, however, that President Rose's town hall discussion about issues of race was impressive, moving and well-attended by faculty. Connelly said that the teach-in last year worked well as an example of faculty-student collaboration on big ideas. "It was certainly a place where faculty and students were in constant conversation," she said. Bowdoin Student Government (BSG) President Harriet Fisher '17 said she is excited that communication between students and faculty as well as the role of the faculty meeting are both being discussed.She added she would like to see students use BSG as a platform where students can share their experiences with faculty.Going forward, GFA will continue to talk with faculty about the presence of students at faculty meetings.Connelly is unsure of the specific steps that would need to happen for GFA to finalize a new procedure, as the faculty handbook generally outlines the way meetings are run, but does not go into specific details. "We're in pretty grey area," she said. 
http://bowdoinorient.com/article/11468 Russell '17 proposes BSG committee to address safety, town relations — The Bowdoin Orient - During the Bowdoin Student Government (BSG) meeting on Wednesday evening, Representative At-Large Jacob Russell '17 proposed the creation of an Ad Hoc Committee for Off Campus Safety and Town Relations in light of recent concerns surrounding student safety. Due to time constraints, BSG was not able to vote on the committee's creation. If approved, the committee will be open to all members of the student body who wish to participate. Russell specifically mentioned his desire to include students who live off campus and members of sports teams in the committee. Members would be responsible for meeting with municipal leaders such as the town manager and generating proposals to be brought before BSG for approval. The renewed attention to safety both on and off campus comes after a number of incidents that occurred last year, including gropings and a sexual assault at Mayflower Apartments. Many students also reported cat-calling and other forms of verbal harassment when walking or exercising in Brunswick.The assembly also discussed the possible creation of a BSG-organized workshop in response to students' concerns about cat-calling. The workshop would provide students with tools to deal with harassment, specifically in off-campus settings.Representative At-Large Leah Matari '20 spoke up in support of the proposal, citing her own experiences with verbal harassment blocks away from campus. She hopes that, if established, the Committee for Off Campus Safety and Town Relations will work closely with the Brunswick City Council, the town manager and the Brunswick Police Department (BPD) to foster better understanding between the municipal organizations and Bowdoin students. "I think that students will feel more safe walking into town if students are aware that BPD is aware of the kinds of cat-calling that all the women and girls have to deal with," Matari said.Russell acknowledged that though the school does not have the ability to control the behavior of Brunswick residents in town, even the effort to reach out could help improve the relationship between the town and the College. "I think just having a presence and working with the police and making that relationship more positive is an important step, because right now it's going in a direction that is not looking super positive," Russell said. BSG will vote on the creation of the Ad Hoc committee at their next meeting on Wednesday, October 26.     In addition, Vice President for Facilities and Sustainability Carlie Rutan '19 shared plans to meet with Vice President and Interim Head of Finance and Administration Matthew Orlando to discuss the cost of installing more overhead lights around campus and to create a survey to send out to the student body to gauge student opinion on which areas are too dark.  
http://bowdoinorient.com/article/11466 Producer Chris Gary talks failure and curiosity — The Bowdoin Orient - Chris Gary, producer and former HBO executive who oversaw works including "The Perks of Being a Wallflower," "True Detective" and "Game of Thrones," highlighted the importance for students to follow their passions and seek out new experiences his  talk on Monday in Kresge Auditorium."You're only as good as you are willing to discover new things," he said.During the talk, Gary discussed in great detail the role of curiosity, asking students what they liked to Google. He also upheld the importance of hobbies, saying that hobbies stem from a profound love for random, quirky curiosities.Although he originally neglected his own curiosities, Gary said he eventually found happiness once he focused on following his passion. "Every career that I had ever wanted had something to do with a character on a TV show," he said.He pursued a degree in finance at Georgetown University, but after his first internship he realized that Wall Street was not for him. "They wanted me to conform," he said. "Conforming [has always been] the thing I was taught to never do." Near the end of the talk, Gary spoke about the movie "The Perks of Being a Wallflower," a project in which he had found himself emotionally invested."[I] put more of myself into [the project] than anything I had ever worked on," he said.While Gary said some projects pushed him to be more creative, singling out "Game of Thrones" as his outlet for bold creativity, he said "Perks" had enabled him to be more emotional and more personal in his work.Gary concluded his talk by telling the audience to "get comfortable with being uncomfortable." He was greeted afterward by a long line of students, many of whom were hungry for more advice or had lingering questions about "Game of Thrones."The presentation helped many audience members consider how their passions could become a career—especially in the entertainment industry. "I went to the event because I'm interested in film and the creative process, but I'm not really sure how it translates into something that you can do to make money and to survive because we do live in a capitalistic society," said Railey Zantop-Zimlinghaus '19. "Before meeting [Gary], I was missing the connection between the liberal arts mindset of 'find what you're passionate about and take it and run with it' and the very real life, where you have to pay rent.""I liked a lot of his advice," said Summers Askew '20. "I thought it was an interesting perspective in the industry. He actually knows what's going on."Zantop-Zimlinghaus added that she was also impressed by Gary's relaxed demeanor. "He was so chill," she said. "He was a real person … not everyone has to be a robot!" The talk was sponsored by Career Planning. Liza Tarbell contributed to this report.​Editor's note, Friday, October 21, 7:21 pm: This article has been updated to reflect that Gary is an indepedent producer who has previously worked for HBO.
http://bowdoinorient.com/article/11465 Special collections expands hours to accommodate demand — The Bowdoin Orient - In response to a large number of students using Special Collections this semester, the George J. Mitchell Department of Special Collections and Archives has extended its Thursday hours. Students and other researchers are now able to access Special Collections from 9 a.m. to 9 p.m. on Thursdays, as opposed to the previous hours of 9 a.m. to 5 p.m. According to Kat Setfko, director of Special Collections and Archives, the increased hours are intended to better meet the needs of students. "Our concern is that the hours of 9 a.m. to 5 p.m. may not be the best for students, who are often in classes during that time," she said. "Because we have a lot of students that are coming in this semester with a variety of classes we wanted to be able to try to be open during hours that might better meet their calendar needs."Peter Mumford '17 is using documents from special collections for a research paper on how Bowdoin maintained its commitment to the liberal arts model of education during World War II. "I think [the expanded hours] are a great idea, especially if you're trying to work on a project that spans the entire semester. Having the ability to go in there during normal study hours instead of during the day is pretty crucial," said Mumford.According to Stefko, Mumford and one other student made use of the first set of expanded hours, along with another non-student researcher.The office is open to the idea of adding additional hours depending on the needs of students. "We're hoping what's going to happen is we'll see a lot of students during those evening hours, which would be a good indicator that that's something that we need to continue to do," said Stefko.The office started the expanded schedule last week. The current schedule will continue through the end of the academic semester. Special Collections is open from 9 a.m. to 5 p.m. on weekdays other than Thursdays.
http://bowdoinorient.com/article/11434 Outsiders at College House parties prompt campus concern — The Bowdoin Orient - A recent uptick in trespassers at College House parties has prompted the Department of Safety and Security and the Office of Residential Life to reinforce the safety procedures set in place to regulate crowds at such events. Security confirmed that non-Bowdoin Brunswick residents have been present at parties at Quinby, Baxter and Ladd this year.In the early hours of the morning of October 1, Rojelio Garcia—who is currently on active duty with the U.S. Navy—was charged with criminal threatening after allegedly brandishing a knife in the direction of two Bowdoin students. The student body was notified of the incident in an email from Director of Safety and Security Randy Nichols on October 2. "We are assuming that [Garcia] was in Baxter prior to the incident, based on the flow of traffic, but we can't determine that for sure," Nichols said. However, Garcia was not the only non-Bowdoin student or guest at the College that night. "We can confirm that some of the people that he was with the night the knife incident occurred were at previous College House parties, and at least one of them had returned the next night, after the knife incident," Nichols said. At a campus-wide party on the Saturday night following the knife incident, Quinby members discovered four naval cadets had entered the party and were playing beer pong in the basement. At the time, students had not yet been notified of the alleged knife incident. "They set off several red flags to me as to whether or not they were Bowdoin students," said President of Quinby House Lucian Black '19, who was one of the event hosts that night. "They all had military haircuts, they were standing away from everybody else," he said. "When I asked them if they were Bowdoin students, they couldn't answer and then they tried to explain that they knew someone there and couldn't come up with a last name or where he lived or any other relevant fact about this person. That's when I knew to ask them to leave."Black and the other event hosts then escorted the men outside as the alcohol host called Bowdoin Security, who arrived promptly, followed by Brunswick Police Department.Later that night, Black and the alcohol and event hosts debriefed with Nichols."We're asking event hosts to be very cognizant as to who they're allowing into events. If there's ever a situation where somebody gains entrance to an event that is causing a problem or it doesn't appear that they should be there, immediately report that incident to Security," Nichols said. According to Assistant Director of Residential Life Mariana Centeno, the primary procedure to ensure a safe event is vigilant door duty, in which event hosts must request to see Bowdoin ID from every partygoer at the door. "People have been getting really lax with door duty, getting really lax with letting people who are not Bowdoin students into their events," said Centeno. In a meeting with all College House officers on Tuesday, Nichols emphasized the importance of attentive House members guarding the door at parties.Baxter House successfully prevented an uninvited partygoer from entering during their second campus-wide of the year in September."This man, who was probably in his 40s, came to the door and had glasses and a beard and definitely did not look like a student, but was holding a bag of Twisted Teas," said Baxter House Programming Director Phoebe Bradberry '19, who was manning the door at the time."He tried to walk in and we asked, 'Can I see your OneCard?' And he said, 'Oh sorry I left it at the dorm, I'll just leave.' So then once he left, we called Security and then a couple minutes later a student came in and said that there was a creepy man outside asking directions to dorms and so they also called Security," she said.According to Bradberry, another incident involved alums from 2004 and 2006 arriving at an event hosted by a group using Baxter that night, but it was unclear whether or not they were the guests of students. A concerned party attendee called Security to have them escorted out as well. All of the trespassing incidents have involved post-college aged men. Emily Weyrauch contributed to this report.
---
Country: 139.140.232.24, North America, US
City: -69.9725 Maine, United States
Jonathan E. - Great blend, but is it worth the high price? Other options? For sure...

My reviews are generally long and informative. If you don't like or have the time for a long review, I recommend just reading the IN BRIEF section at the top. If you want more info, please go for reading the whole review.
T. Travis - Not great, but not bad either.

Not a bad read. It didn't knock my socks off, though. And I did not like the "before" and "after" format...made the story too disjointed. Maybe it would have worked better if some chapters were combined and less jumping around. Overall OK. I am giving it 4 stars because it was way better than the free book I picked last month!
ANDREA MCCREE - Great product for the price.

I tried many products and this product by far is the best ever, well worth the price. Will purchase again.