veterinary pharmaceutical factory of guangxi M.R.I - Veterinary Pharmaceutical Factory of Guangxi Medicine Research Institute is a high-tech factory, subordinate to Guangxi Medicine Research Institute. It engaging in research, development, manufacture and sell of pharmaceutical raw materials and preparations. We have got GMP approval in January 2005. There are five GMP-approved production lines for manufacturing injections, oral solutions, tablets, pulvis and powders. There is High Performance Liquid Chromatograph, Polarimeter, Ultraviolet Spectrophotometer and Electronic Scales etc checkout test set in our laboratory. More than 80% workers and staff members of factory having the junior college, undergraduate course and graduate student degrees, we also have a high-tech working team of research development talent, management and salesmen which consists of veterinarian, pharmacist-in-charge, senior engineer and researcher, all the workers at the production line has passed GMP knowledge training. At present, we mainly produce a series of "HuangMa" brand Veterinary Pharmaceutical, including injections, oral solutions, tablets, pulvis and powders. The main preparation products are Wangxuelai® Injection, long-acting Ivermectin Injection, long-acting Doxycycline Injection, "Huang ma li di" oral solution, "Huchuanling " tablets and "Qiu qiu luo" etc. Moreover, we also produce a series of raw materials of medicine, including Iron Dextran, Dextran, Ferric Chloride, and so on. As a specialized pharmaceutical raw material manufacturer of China, we now mainly produce Iron Dextran serial products. Up to now, we have been acted as a specialized researcher, manufacturer and trader of Iron Dextran for over 30 years, and we have become the biggest Iron Dextran manufacturing base in China. At present, we can produce 1,000 tons of Iron Dextran Solution, 150 tons of Iron Dextran powder, 120 tons of Dextran and 200 tons of Ferric Chloride every year. The belief of our factory is "Excellent quality, Excellent effects, Reasonable price and Excellent service". We have sold the products to more than 20 provinces and cities around China. Meanwhile, we have exported our products to Southeast Asia, USA and Europe.It is our permanent principle that "development rely on high technique, life rely on high quality".Welcome to use our products and I'm sure you will draw a conclusion that "HuangMa" Veterinary Pharmaceutical can rest assured to use. General manager Mr. You Zhixiang carry all of us to welcome various sectors of the community to visit ,survey our factory, cooperate together to development, mutual benefit and all-win.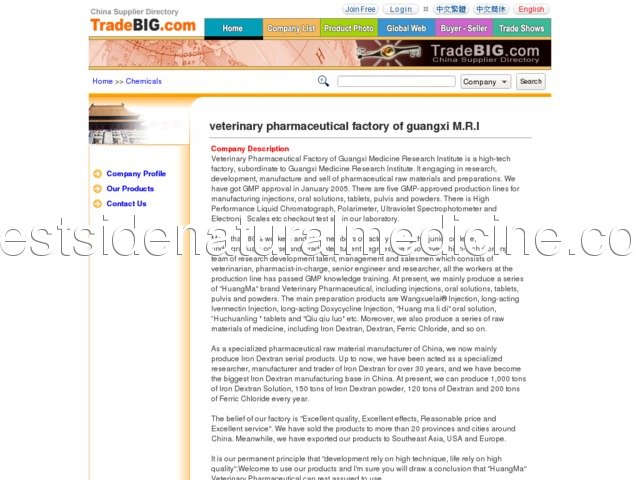 ---
Country: 162.159.210.70, North America, US
City: -122.3933 California, United States
Rachel A. Adams - Worked so good

I moved into a new place and the previous owner did not clean up after their pets accidents... saturated the areas that smelled and left to air dry and voila i dont smell it anymore! however its easy to go through the bottles quick so beware :)
Ella - It was the best 60 dollars we ever spent

This totally worked! After our mechanic had our car in and out of his shop for three weeks, taking it to the dealership for diagnosing and paying over three hundred dollars to finally them telling us it was the head gaskets and that it would cost over 1500 dollars to fix. About to give up and sell the car to ecology we thought what the heck might as well give this a shot it's only 60 dollars, what it can it hurt. It was the best 60 dollars we ever spent. Blue devil delivers. Best advice we can offer is to follow the directions on the bottle to the tee. The only down fall is the directions state to pour half the bottle in but the bottle it comes in is blue, hard to see through and with no measurement lines. Its a 32 ounce bottle so my husnand had to measure 16 ounces out into a 16 ounce bottle he found and than pour it in.
lamg3 - Stomach problems from the new formula

I always went with optimum for protein, though recently I've been experiencing Steatorrhea, which is Greasy soft stool and I read that they changed from a natural sweetener to a splenda sweetener. After I stopped Taking the supplement my stool went back to normal. I read online that Splenda sweeteners can kill good bacteria in your gut, and I probably will never buy this protein again, unless they go back to the old formula. If you are planning o taking this protein try getting a few sample packets, and if you're fine then try it but if you start experiencing stomach discomfort then I wouldn't spend 60 Bucks on a full jug.
Steven L. - Works But Rough Edges

Purchase this over turbo tax because of price. It works but I found myself having to spend more time understanding tax laws than I had to with turbo tax. There was also a problem with updating to the latest forms. Program kept prompting me to update the software, go through all the steps of downloading and "installing" at the end everything looked like the update worked but when it started again the same prompt to update. Had to call tech support which took a very long time waiting.
JetDriveSolutions - A Screen Thats is Better Than the MacBook Air

I'm a web developer, and I'm the founder of an IT/Tech start-up. I was always very interested in the Chromebook OS, and I finally decided to purchase this device. I'm stunned. The quality and functionality of this device is far beyond what I expected, especially for the price. The Chromebook OS is far better that I had thought, and I actually like it. Since I do a lot of work on browser-based clients (i.e Google Docs, Zed..etc.) I can do everything I used to do on this Chromebook, with incredible productivity. Let me go over some pro's and con's with you.
Sherrie - EVERYONE NEEDS TO READ THIS

EVERYONE NEEDS TO READ THIS to form an honest and more clear opinion of who is running this country whether you favor one party or another. Dinesh presented the facts of the character and intentions of Obama. No fluff to sway you to love him or hate him just the facts. I have my opinion for the way Obama has been a very poor President on many levels. You watch this and compare it to his Presidential record and where our country is and then you form your own opinion. A great DVD!